The 2018 Business Book of the Year.
"If you are looking for some pacey pages packed with the insight, tools and know-how needed to ensure your next change is the one in eight that succeeds, you'll do well to pick up this book." Institute of Leadership & Management (Reviewer: Andrew Sharman, CEO of RMS & Fellow of ILM)
"Possibly one of the most informative and influential books you will have the opportunity to read this year"  The HR Director Magazine 8 July 2017
'The Change Catalyst (secrets to successful and sustainable business change)' was published worldwide by Wiley in May 2017.
Available in hard back or Kindle from Amazon.com, Amazon.co.uk and Booktopia.com.au.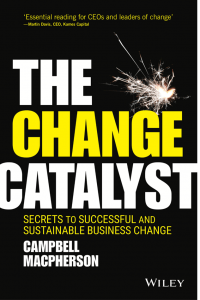 88% of change initiatives fail. A similar proportion of strategies, mergers and acquisitions suffer the same fate.
'The Change Catalyst' provides business leaders with the insight, tools, methodologies and approach they need to ensure that their change initiatives are among the one in eight that succeed.
Change is inevitable. Successful change isn't.
"Essential reading for CEOs and leaders of change." Martin Davis, CEO Kames Capital
"One of the most insightful books on change I have read in a long time." David Pitman, Global Finance Partner, Boston Consulting Group
"'The Change Catalyst' is well-written and a pleasure to read. It is full of insight and anecdotes to help organisations transform for the better." Association of MBAs Book Club
The Change Catalyst Book Launch IOD May 2017
Keynote speaker guest speaker