Change Workshops

Ave delegate score: 4.8/5!
If you are not leading change, you are not leading anything.

You are just managing the status quo.   

88% of change initiatives and strategies fail.     Equip your leaders and leadership teams with the tools and approaches they need to be among the 1 in 8 that succeed.

Ave delegate score: 9.3/10!
Leading change is especially tough for successful organisations.

Equip your leaders with the ability to question the status quo, innovate and banish complacency forever.

1/2 day workshop for all employees to help them become ready, willing and able to embrace business change and personal change head-on.

16 week programme for leadership teams to ensure clarity of strategy, genuine alignment and successful change leadership.
Campbell Macpherson
adviser | facilitator | author
speaker | change catalyst
25+ years of experience helping leaders to successfully instigate strategic change.
Only your people can deliver your strategy.
Only your people can deliver the change your business requires.
But first they must be clear about what the business is seeking to achieve …
and why.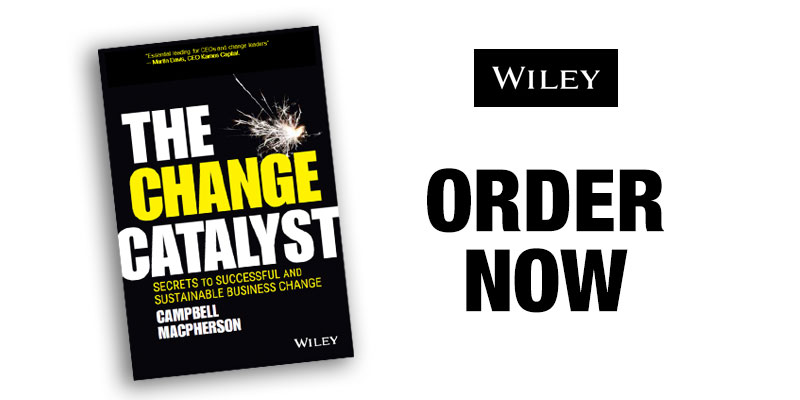 How to succeed when 88% of change initiatives fail.
2018 Business Book of the Year
Click the video below
"Ensure your next change is the one in eight that succeeds; pick up this book."
Institute of Leadership & Management
"One of the most informative and influential books you will read this year."
The HR Director
"Full of insight and anecdotes to help organisations transform for the better."

Association of MBAs
Business Advisory / Consulting
Strategy clarification and execution, Culture change, Strategic alignment, Change leadership and delivery.
Change Catalyst Workshops, Programmes & Services
Tailored interventions based on decades of experience to help you ensure that your culture, your leaders and your people are ready, willing and able to deliver the change your business needs.
SWF & Institutional Investor Services
A selection of tailored services to ensure clarity of strategy, organisational alignment and successful strategy execution.
Responsible Capitalism Solutions
A series of workshops, mentoring sessions, reviews and strategic planning to embed the principles of Responsible Capitalism into the DNA of your organisation.
Energising Speaker. Experienced MC/Chair. Skilled Facilitator. 
"Laugh and learn business therapy"
"Awesome speech."
"Campbell makes you laugh and think at the same time"
"Captivating style and excellent speech."
"Thought provoking and compelling."
"Brilliant Chairmanship – best I have ever seen."
"Adroit Chair – carries an event with charm and elan."
"You never forget a Macpherson presentation."
Change Leadership. Change. Strategy. Culture change. Professional speaker. Henley Business School lecturer.
I am very excited to share with you a priceless new strategy tool – something I have been searching for decades. "Simplicity is the ultimate sophistication" Leonard Da Vinci. Too often, strategy is over-complicated. And I [...]